Guest post by Carolyn O.
Every time we get fresh eggs from the farm we notice again how white the whites are and how bright the yellow yokes are. That makes them perfect for one of the prettiest dishes I make. It's also a very easy way to use leftover beets and extra eggs. I pickle them!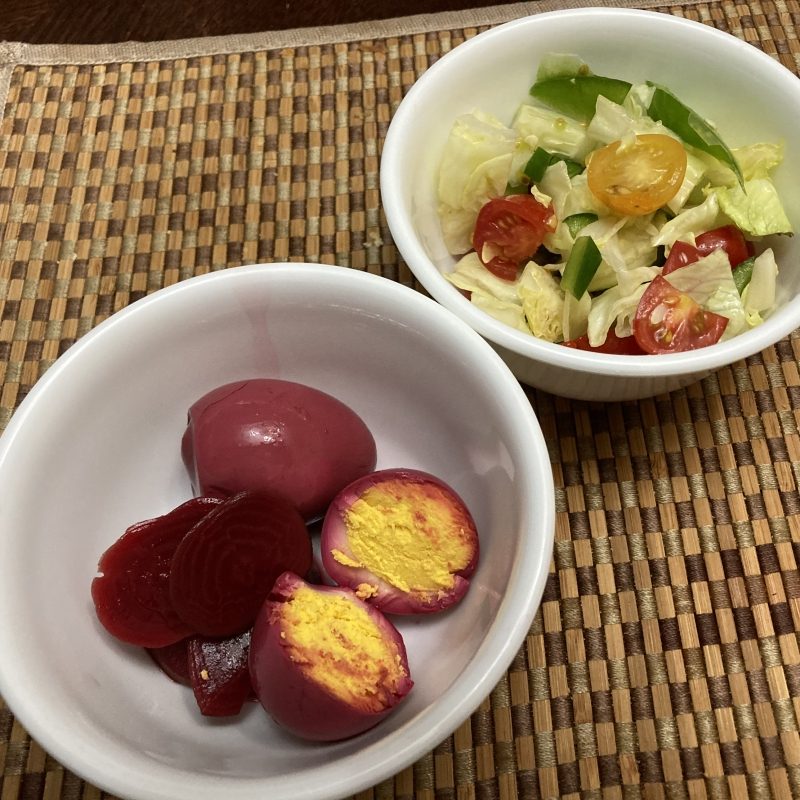 Pickled Beets
Ingredients
4-6

Peeled hard-boiled eggs

Equal number of sliced or cubed cooked beets

About 1 cup of the water the beets were cooked in

1/3-1/2

cup

Apple cider vinegar

1

small chopped onion, opt.

Sugar to taste, opt.

up to 1/2 amt of vinegar

Cinnamon or cloves for a more sweet-gherkin taste, opt.
Instructions
In a small sauce pan bring the vinegar, beet juice and sugar with any spices you add just to a boil and then pour the syrup over the beets, eggs and onions in a clean canning jar.

Cover it and refrigerate for about 48 hours. The longer the wait the stronger the pickle taste, but every day the pink beet juice penetrates the egg further, dyeing more of the egg white until it is all pink.
Notes
You don't need to boil the liquids, but can mix them in a clean bowl.
Do these in small batches so they get eaten before they get too old. These refrigerator pickles will keep two weeks or so if kept cold.
Put a nice pad of paper towels under the container, even in the fridge, because just a few drops of juice can really make a bright pink mess!