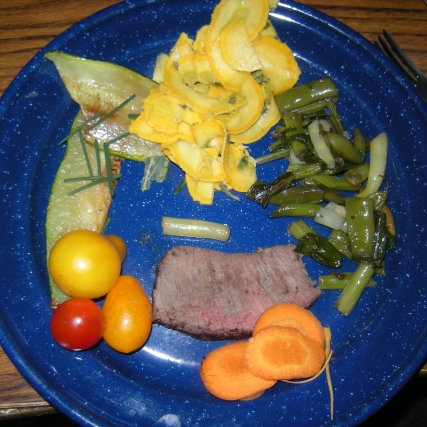 Recently we had a week that we tried to eat only what we grew or raised or hunted ourselves. Protein-wise we would be fine – we have beef, chicken, pork, goat, venison, and eggs. Fruit wise we have pears. Apples and peaches might also be ready. And there was the wild plum tree, wild grapes, and maybe elderberries. Veggies were available – green beans, Swiss chard, red and sugar beets and beet greens, summer squash, zucchini, edemame, onions, garlic, carrots, grape and yellow pear tomatoes. We have oregano, sage, rosemary, and mint for flavoring. Honey and maple syrup would be the sweeteners. Black walnuts are somewhere. (We didn't find them, so they weren't used.) Starches and fats would be the weak link. We had a few potatoes; we did grow wheat this spring, so could grind that; we had beef tallow and could process pork lard. We had milk, but not enough to get cream for butter. Salt was allowed as needed/wanted.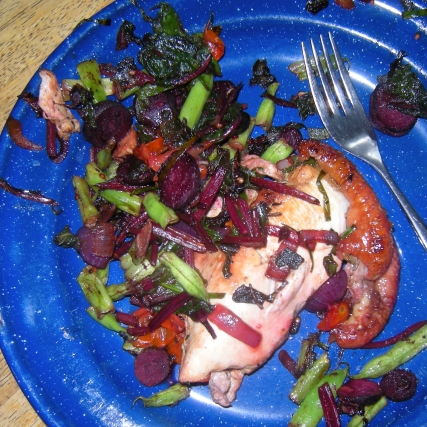 Suppers/dinners were fine. At first they were more involved. As time went on, they became 1 pot stir fries. We like salads, so raw carrots and tomatoes were the munchies that served as a salad.
Monday – fried Zucchini planks, raw thinly sliced summer squash with sage and tallow, sauteed beens and herbs, seared and roasted London broil
Tuesday – baked zucchini, tomatoes, with milk and eggs over top
Wednesday – sauteed ground beef, green beans, summer squash, Swiss chard
Thursday – roasted chicken over sliced potatoes; cornmeal mush
Friday – chicken leftover veggie soup, made with chicken broth and cream and milk
Saturday – hamburger patties, with tomatoes as bun, veggies on the side
Sunday – seared and roasted chuck roast, sauteed veggies
At first I tried to saute things in lard like I would in olive oil – lots of lard. That was too much lard. So I would use lard to start the veggies and then I would add chicken broth to add moisture.
Breakfasts and lunches are make-it-yourself. However, we have lots of oats and bread and granola that can be part of the make-it-yourself and these were not available. We did have wheat that we ground into whole wheat flour. This was mixed with milk and eggs to make crepes, pancakes, flat bread (chapatis), or quick bread if you add fruits or meats and veggies. If you beat your eggs or your egg whites and then mix it with the rest of the batter, it will be more of a raised bread. We also had 1 batch of cornmeal mush.
Things we missed – oats, oatmeal, granola, dried fruit, olive oil, butter, lettuce.
All in all, it worked out well. After one week 5 of us stopped, but 3 continued for about another week. As I was no longer cooking just what we produced, this became make-it-yourself for all three meals. But they made it work! We will probably try this again and aim for 2 weeks next time.