It is garlic scape season again!  This is a 2-3 week period in June and July about a month before the garlic is ready to harvest.  Scapes are the flower umbrel of a hardnecked garlic. Since we want the energy of the plant to go into the garlic clove, we remove these and eat them.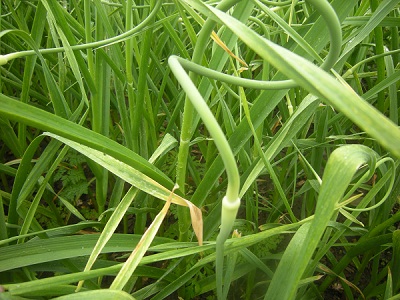 Uses for Scapes –  We use scapes in 2 ways – as a green vegetable and as a major ingredient in pesto. Raw, scapes taste like a solid green garlic. They are rather strong. Cooked, they mellow in flavor. The texture is somewhere between cooked green beans and cooked asparagus. The flavor sort of resembles a garlic-y green bean.

Green Vegetable – We chop the scapes to a size similar to green beans and cook them in a similar manner. They can be steamed, sauteed or boiled. They can be added to soups, stews or stir-fries. They can also be blanched and frozen – we blanch them for 2 minutes.
Pesto – For our family, I take 1 part scapes to 1 part nut or seed to 1 part cheese to 1/2 part oil. I blend these together in the blender or food processor. The blender takes more oil, the food processor less. I have found that any nut/seed, cheese or oil will work. We don't like the traditional pesto nuts and cheeses, so we use the ones we have, usually walnuts, cheddar cheese and olive oil. The flavor of this mellows with refrigeration. It can also be frozen. We eat it with veggies, crackers or bread OR eat it plain.

Just for reference or planning, 1/2 lb scapes chopped = about 2 cups.