Recently we had chicken and waffles. I made a chicken gravy, a thin gravy with shredded chicken. Here is how I made it.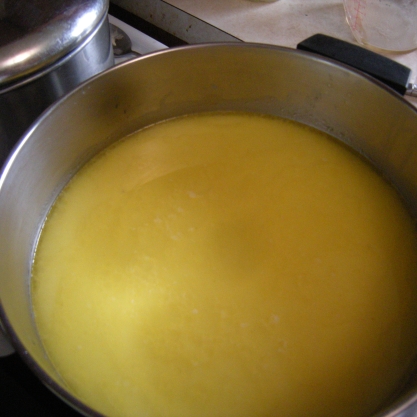 Because of the quantity of chicken I wanted, I used a whole chicken for this recipe. I put a frozen chicken in an 8 qt. stockpot and covered it with water. I put it on the stove to boil. Once it came to a boil, I turned the heat to low and let it simmer for 3 hours. This was the resulting broth with a nice layer of chicken fat.
Since I had a day until I needed the chicken gravy, I refrigerated the whole pot. The chicken chilled and the fat congealed. Also the broth was semi-gelatinous, always a good thing! At this point when you reach for the chicken it falls apart.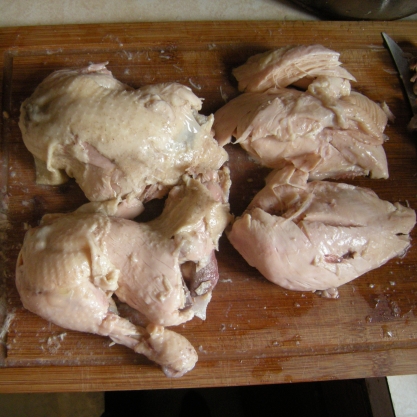 So I pulled off the leg and thighs from both sides and all the breast meat. I pulled the bones out and the skin off.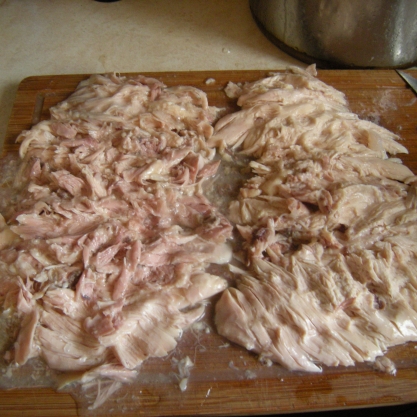 Because I wanted the chicken to be finely shredded, I pushed all the meat flat with my (clean) fingers. You could do the same thing with a kitchen mallet.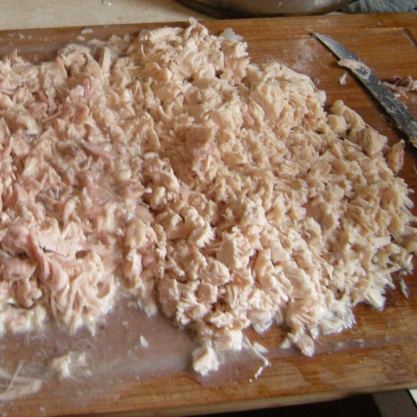 Then I chopped the meat up across the grain and ended up with finely shredded meat. (A 4 pound chicken gave me about 4 cups of meat, a cup from each section.)
Meanwhile, I was making the gravy. Recipes seem to have equal parts liquid and chicken. So 2 cups of broth would need 2 cups of chicken. And that ratio seems to make a nice chicken gravy.
I started with some fat, either the chicken fat from the broth or some butter. I used arrowroot as my thickener and mixed that with the fat, heating it and letting it thicken. Then I added most of the broth. I kept some back, so that I could add more arrowroot if it wasn't thick enough. I let this heat almost to boiling. (Equivalency: 1 part arrowroot=2 parts cornstarch=4 parts flour)(Thickeners mix well with fats. They tend to clump when added to hot liquids, but mix well with cold liquids. So I tend to mix 1 part of thickener with 2 parts of cold liquid, either broth or water. I stir this until it is smooth, then add the smooth mixture to my hot stove liquid.)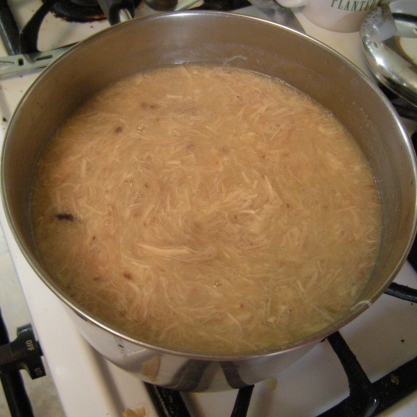 Finally, I added the chicken to the gravy and had chicken gravy. You can see the meat blended in. I let this warm to almost boiling and then served it over waffles. It is a thin gravy, but works well over waffles or toast. And it would be a little bland by itself, but would be ok over most starches, potatoes, rice or noodles.
You can add your normal spices, salt, pepper, onions and garlic. Onions and garlic I would saute at the beginning in the fat before I add the thickener. Spices, salt and pepper, I would add at the end.
Chicken Gravy
Ingredients
2

cups

chopped or shredded chicken

3

tbsp

fat, can be chicken fat, oil, butter

Onion or garlic, opt.

1

tbsp

cornstarch (or 1/2 tbsp arrowroot powder, or 2 tbsp flour)

1 1/2

cups

chicken broth

1/2

cup

chicken broth

1-2

tbsp

cornstarch if needed (half the amount for arrowroot OR twice the amount for flour)

Spices, pepper, salt, to taste, opt.
Instructions
Heat fat in medium saucepan. Saute onions and garlic, if using. Add thickener. Stir until thickened. Add 1 1/2 cup chicken broth and stir until thickener is unclumped and spread throughout.

Bring just about to a boil, stirring every 2-3 minutes.If it seems thick enough, add the 1/2 cup chicken broth. If it seems thin, add some thickener to the 1/2 cup chicken broth. Stir until smooth. Add to the heated mixture.

Add the chicken. Heat until just about boiling. Add salt, pepper or normal herbs or spices to taste.

Serve over waffles or toast, OR potatoes or rice or noodles.